Additional Services
Antigua Hotel Solutions offers a variety of selected services in order to exceed your expectations and make your stay with us memorable.
Food & Beverages:
Bottled water and snacks for sale at the front desk of each one of our hotels.
Lunch Box Service
Breakfast Buffet service at selected hotels
Restaurant and Bar Service at "Restaurante del Arco" (Below Famous Santa Catalina Arch)
Services:
Our group of 12 hotels offers over 215 rooms and can accommodate up to 700 people.
Each one of our hotels is conveniently located in the central area of Antigua Guatemala, only a few blocks away from Parque Central.
Wifi Service at all our hotels.
Rooms with flat screen TV's, Cable service (movie, news and kids channels).
National phone call service
Romantic Room decoration service available.
Conference room with projector available with prior request.
Delivery Service from "Restaurante del Arco"
Facilities:
Use of swimming pool and sauna in affiliated hotel.
We are pet Friendly, make sure to request a special bed for your furry friend.
Parking service with previous reservation at selected hotels.
Social Events area with capacity for 250 guests.
Monitoring cameras and security boxes for your security and peace of mind.
Cleaning: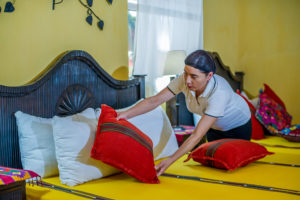 Daily room cleaning.
Laundry Service
Daily towel change.
Hair dryers in the bathroom.
Shuttle Service:
Antigua-Airport Guatemala City
Airport-Antigua
Antigua- Panajachel- Atitlán lake
Panajachel-Atitlán Lake-Antigua
Antigua- Chichicastenango
Chichicastenango-Quiché-Antigua
Antigua- Pacaya Volcano